Pharmacovigilance Audit System
Pharmacovigilance audits are an essential component of any pharmaceutical company's Quality Management System. If carried out correctly, auditing provides an unbiased opinion of operational performance of the Pharmacovigilance system, measuring the system against its own procedures and against the regulatory guidelines, and ensuring that the system itself remains compliant with the regulations.
Why are good Pharmacovigilance Audit practices so vital?
Statutory Pharmacovigilance inspections by regulatory authorities – especially in the EEA – have become increasingly intensive and wide in scope in recent years. GVP Modules III (Pharmacovigilance Inspections) and Module IV (Pharmacovigilance Audits) provide detailed requirements for the establishment of a good auditing program by a Marketing Authorization Holder.
Moreover, effective pharmacovigilance audits help to identify and resolve compliance issues in a cost-effective, planned manner, before the regulatory inspectors impose punitive and costly demands on companies to carry out urgent remedial actions.
Risk Based Pharmacovigilance Audits:
Risk Based Pharmacovigilance Audits are conducted according to the need to identify problems at different stages of the drug safety processes. Expert advice is required to adequately develop and implement three distinct elements of good practice in order to gain the benefits of a comprehensively planned approach versus the cost of remedial actions.
Strategic long term planning:
A 2 to 5 year high level scheme which lists audits, topics to be examined, the methods to be employed and the theoretical approaches underpinning this work. Your strategy should address all aspects of drug safety work, including:
all routine and extraordinary processes and tasks involved
the quality system which provides the framework for these activities
liaison with interested parties both within the company and externally
liaison with regulatory authorities
Developing a Robust Program:
The development of an approximately 12 month plan which forms the latest phase of the audit program. This needs to deliver on the principles, structure and practices to be followed as stipulated throughout the Strategic Plan. The Program needs to address areas which have required further input in the past, and those areas where a higher risk potential has been identified. It should then be the driver for all pharmacovigilance processes and tasks, the controls which operate around those and the relevant quality system. In accordance with legislation, these tactical audits must take place at regular intervals and reliable professional advice will therefore be required to ensure all practices are compliant.
Individual Audits:
Each one needs an unequivocal and individualized plan from the very start. Every step, every aspect must be adequately documented, with clear evidence of the timeframes involved and the manner in which the work is to be undertaken, including standard methodologies and communications practices.
Reporting and Remedial Action:
The results of audits must be communicated to upper management and regulators according to the highly specific framework laid down by EU drug safety law1. The formulation of responses from the company to regulators in relation to inspections requires a high level of expertise. Devising and implementing the appropriate Corrective and Preventive Action Plan (CAPA) is also an issue where professional support should be sought.
Prime Vigilance consultants and executives have many years of experience of conducting pharmacovigilance audits worldwide, and develop programs with client companies to ensure that all elements of their pharmacovigilance system are covered as appropriate.
The team can audit pharmacovigilance operations at headquarter, national affiliate, distributor and partner level, with follow-up audits if required to ensure corrective measures are completed appropriately. The correct support at the correct time offers a superior strategy – one that is far more cost effective and reliable.
Audits: Compliant and Prepared:
Just one of the pharmacovigilance services from Prime Vigilance
For more information contact PrimeVigilance today.
References:


Brown EG, Goldman SA. Preparing for regulatory inspection of company pharmacovigilance systems and practices in the European Union and United States. In Good Clinical, Laboratory and Manufacturing Practices: Techniques for the QA Professional. Royal Society of Chemistry, 2007
Brown EG preparing for a European pharmacovigilance regulatory inspection. Pharmacoepidemiol Drug Safety 2002 11 S238
Corrective and Preventative Actions:
What Is a CAPA And Why Is It Required?
Corrective And Preventative Actions (CAPA), also sometimes termed Corrective Action Plans (CAPs), is compiled from the findings of inspections and audits. Inspections are carried out by regulatory authorities, audits can be carried out internally or they can be conducted by an external party.
Where audits and inspections identify parts of the pharmacovigilance system that are non-functional and issues that are being encountered, CAPs will then:
The time Describe in detail how the company proposes to remedy each individual issue
Describe in detail scales and mechanisms by which this will be done
Describe in detail how those actions relate and contribute to the system as a whole
The prospect of executing corrective actions following findings of an inspection or audit can be particularly daunting task for companies. A purely hypothetical example here could be as follows:
An Individual Case Study Report of a serious event is submitted to the regulatory authorities outside the legally required timescale, triggering an inspection. The findings of the inspection then require an adequate response from the company, in the form of a CAPA, which addresses any and all issues within the pharmacovigilance operations which have contributed to that delay. The inspection could also have identified numerous other issues of concern. Each would need to be individually addressed, with a response adequately reflecting the level of severity, formulated in sufficient detail and using the correct terminology.
Addressing Major And / Or Critical Findings From Regulatory Audits:
Within the European Union (EU), when the findings of a drug safety system audit bring to light major or critical findings, both the findings AND the resulting CAPA are required to be held in the Annex of the Pharmacovigilance System Master File (PSMF) for that marketing authorization until the issue has been fully resolved to the regulator's satisfaction.
What Do CAPAs Compel Companies To Do?
CAPAs can demand anything. They are a formal response to a major or critical finding within the pharmacovigilance system. Whatever they do demand has to be:
specific
detailed
achievable within a defined timeframe
and have assigned responsibility
They may need prior investigation with root-cause analysis before being drafted. Possible courses of action required can include:
Modification or rewriting of certain Standard Operating Procedures (SOPs)
Training for staff to be received in those specific new procedures
That all SOPs must be rewritten or that an entirely new set replace them
That staff receive training in all those new procedures.
However, it is also possible that within a specified timescale:
modifications to Quality Management processes are required on a large scale
a Safety Database is required to undergo important modifications
a Safety Database is required to be updated
And finally, where there have been serious systemic failures in compliance with EU drug safety laws:
the entire pharmacovigilance system may be required to be overhauled
new components may need to be added to that system
departments could need to be reorganized
in rarer cases entire companies could need to be reorganized
 Why Use Prime Vigilance For Formulating And Implementing CAPAs?
Our consultants have been extensively involved in interpreting inspection and audit findings and can pitch the response at the appropriate level. Indeed many of our consultants are former regulators and have in-depth knowledge of what regulators expect. For example, it is essential that the findings are explored appropriately to determine whether they are manifestations of underlying problems or isolated events. The response to the findings is crucial in ensuring that suitable remedies – with achievable commitments – are offered. Getting this wrong can cost companies enormous sums in activities that may be either too superficial or too intensive and wide-ranging.
The implementation of a corrective and preventive action plan can be challenging in the extreme and expert advice and support can make the difference between a vicious cycle of repeated inspections (or worse) and a rapidly achievable compliant system that is acceptable to auditors and inspectors. To speak to one of our expert staff about how we can support you with all aspects of Corrective And Preventative Actions or Corrective Action Plans, please call in complete confidence on +44 (0)1483 307 920.
Prime Vigilance – compliant and taking the right actions:
Just one of the pharmacovigilance services from Prime Vigilance
For more information contact PrimeVigilance today.
SOP Writing:
Where the GVP (for the EU) and specific legislation in other territories refers to "the quality processes", they are referring to Standard Operating Procedures (SOPs). These fit into the overall information structure of the company like this: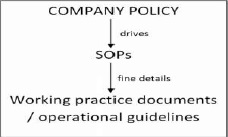 SOPs are the quality control documents which implement company policy. Working practice documents are then derived from the SOPs to provide detailed guidance to staff in the execution of the tasks outlined in the SOPs. For those working within a system, training on SOPS would also be expected as well. The implementation of SOPs is audited, inspected and regulated by the competent authorities in accordance with Quality Management Guidelines contained in the EMA's GvP. Your SOPs are therefore a pivotal component of your drug safety system.
Generic Templates Alone Are Not Adequate:
SOPs are always product and company specific. Your overall company policy will clearly be the driving agent dictating the nature of these documents for individual medicinal products / marketing authorizations. It is not appropriate to use a generic template because each pharmaceutical company is different, each marketing authorization is different and each product is different. If your company working practices are going to be specific for your company, they cannot be derived from "generic" SOPs.
Standard generic templates are therefore inadequate without proper advice and modification. In order to comply with EU pharmacovigilance laws, each Standard Operating Procedures document must be:
Extremely detailed
Written using the correct terminology
Of an adequate length (possibly extending to some 20 or 30 pages)
Reflective of your specific company structures and practices
In order to put together a set of compliant SOPs you need a highly experienced, responsive and flexible pharmacovigilance service provider for advice on cost effective compliance. For example, whilst 2 or 3 SOPS could adequately describe an entire pharmacovigilance process for one product in one company, other systems elsewhere could require more than a dozen.
Why Choose Prime Vigilance To Help Write Your SOP?
Our consultants have written compliant SOPs for many years for a highly diverse range of companies and medicinal products and processes. No matter what size and shape your company is, your SOPs are all controlled, comprehensive and specific:
Controlled:
Each SOP release must be controlled and numbered
All document circulation and distribution must be accurately controlled
Versioning must allow for vital comparisons and control of modifications at every stage
The SOPs must be kept up to date and must be current, specifying current practice rather than reflecting obsolete procedures which are no longer used or no longer valid or compliant.
Comprehensive:
All activities and processes carried out by the company must be covered by a SOP. They have to be checked to ensure that they are comprehensive and that there are no "process gaps" – areas of activity not covered by an SOP.
Specific:
Responsibilities must be allocated to named personnel
Timescales must be clearly established
Regular review and progress monitoring is essential
Compliant and timely documentation of this review and monitoring is essential
Documentation must be accompanied by flowcharts
There must be cross-reference made to other SOPs wherever appropriate
Your SOP can be seen as the broader description of activities and processes.
Then your pharmacovigilance Working Practice Documents are the vital fine detail which consistently explains everything you do. They must:
Detail every facet of the work to be undertaken, in minute, precise and step by step detail
Be accompanied by screenshots and instructions where appropriate.
We recommend expert advice at every step of your SOP journey. The process of creating and reviewing SOPs is ongoing: drafting, reviewing, approving, training, implementation and periodic review are all part of the overall process. They are audited and inspected as part of a pharmacovigilance system. To find out more about our cost effective, complaint and controlled Standard Operating Procedures writing services, simply call in confidence on +44 (0)1483 307920.
SOP writing – Documented and compliant:
For more information contact PrimeVigilance
Training:
Why invest in outsourced Training?
Quality training is ultimately a compliance issue. The current guidelines on Good Pharmacovigilance Practice clearly emphasize the link between meeting regulatory quality standards and having adequately trained personnel1. Modern drug safety practice relies on professionals who are fully versed in all the relevant processes and regular communication between those professionals and relevant third parties such as regulatory authorities.
There is an expectation that well trained employees should be constantly updated with appropriate continual professional development. Training must be appropriate to the role to which employees are fulfilling and competency assessment should be undertaken to ensure understanding. The commitment to the highest quality training should be a prime driver within all company activities in this arena.
Professionals are expected to demonstrably acquire and maintain:
An appropriate level of qualification.
• A thorough working knowledge of pharmacovigilance obligations in relation to their particular role  and how that relates to the overall processes.
• The working knowledge of how to practically respond to issues of drug safety concern.
There must also be a commitment to training for employees who are not directly placed within a company's pharmacovigilance unit, but whose work has a direct relationship to it. Examples here could include diverse professional teams such as sales staff, legal team and customer services personnel dealing with certain types of complaints, etc. Please note this list is not exhaustive but serves to illustrate the wide scope of need for high quality training on an ongoing basis. Furthermore, there should always be checks and balances in place to ensure that the training everyone has received meets their operational needs.
Why Train With Prime Vigilance Drug Safety Trainers?
Prime Vigilance consultants are among the world's leading pharmacovigilance educators. They have trained company employees and regulators in many countries on basic and advanced aspects of pharmacovigilance. They have lectured on regulatory compliance and risk management as well as offering training on MedDRA® at all levels. They have been instrumental in writing the guidelines, developing the processes as regulators, using what they teach as part of their daily work. They have lectured on these subjects at academic institutions, published papers and spoken at and chaired international conferences on all of these subjects: these are people passionate about their subject.
Operational Drug Safety Training:
Whether you require aggregate report training (DSURs and PSURs), risk management workshops, Pharmaco epidemiology support, or other types of training, we can help. Our consultants can carry these out at your company locations – and they are all seasoned experts in their particular field.
Pharmacovigilance Inspection Training:
Prime Vigilance can also offer inspection preparation training, with intensive courses on the regulations, advice on inspection activities, coupled with one-to-one training on interview technique for all your inspector-facing employees1. Additionally we offer back room support during inspections. But we can do more; by educating senior management on how effective pharmacovigilance is life insurance for your Company. By bringing these educational activities to the Company premises the need for expensive and time-consuming travel for employees is reduced and can be at a low cost per trainee.
Training: Compliance and Know-How:
For more information contact PrimeVigilance today.
Medical Consultancy:
We offer expert and comprehensive medical consultancy services.
Prime Vigilance offers Medical Consultancy services providing companies medical support by a physician group experienced in all areas of Clinical Safety, Post Marketing and Medical Information.
Prime Vigilance's Medical Team currently consists of 15 board-certified physicians. Some of our physicians have more than 20 years' experience in the clinic and the pharmacovigilance arena. As a team we can cover all therapeutic areas and support clients in different tasks such as:
The development of risk management strategies to help on following up on important signals and development risk minimization measures including the development of Post-Authorization Safety Studies
Responses to Regulatory Authority requests, e.g. responding to EMA referrals
Benefit-Risk analyses, Clinical Expert Statements
Provision of therapeutic area and product training
Development and update of Reference Product Information.
Just one of the pharmacovigilance services from Prime Vigilance.
For more information contact PrimeVigilance today.